Composite garden decking offers easy installation, increased durability, and requires little ongoing maintenance. As the popularity of composite decks has grown, Estate Sawmills has become the UK's leading supplier of composite decking. Our collection includes composite boards from EZY and Millboard, with each range being available in various colours and styles. We also offer composite decking kits that are delivered ready to install.
Order your composite garden decking for collection from our Bradford depot or choose UK-wide delivery.
Choose the right materials for the job
In comparison to traditional wooden decking, composite decking is easier to install, requires very little ongoing maintenance and promises increased water-resistance. This additional durability makes composite decking suitable for various jobs. It can be used around swimming pools, as the base for a hot tub, and is perfect for high-traffic areas such as hotels, restaurants and beer gardens.
Our collection includes deck boards and accessories from EZY and Millboard, both top manufacturers of premier composite garden decking.

EZY composite decking
EZY Super Stable composite decking is available in 5 contemporary colours and a choice of 2 anti-slip finishes. Suitable for the UK's changeable weather conditions, EZY decking is extremely hard-wearing —it won't split, rot, or warp. Every EZY deck board comes with a 10-year guarantee as standard.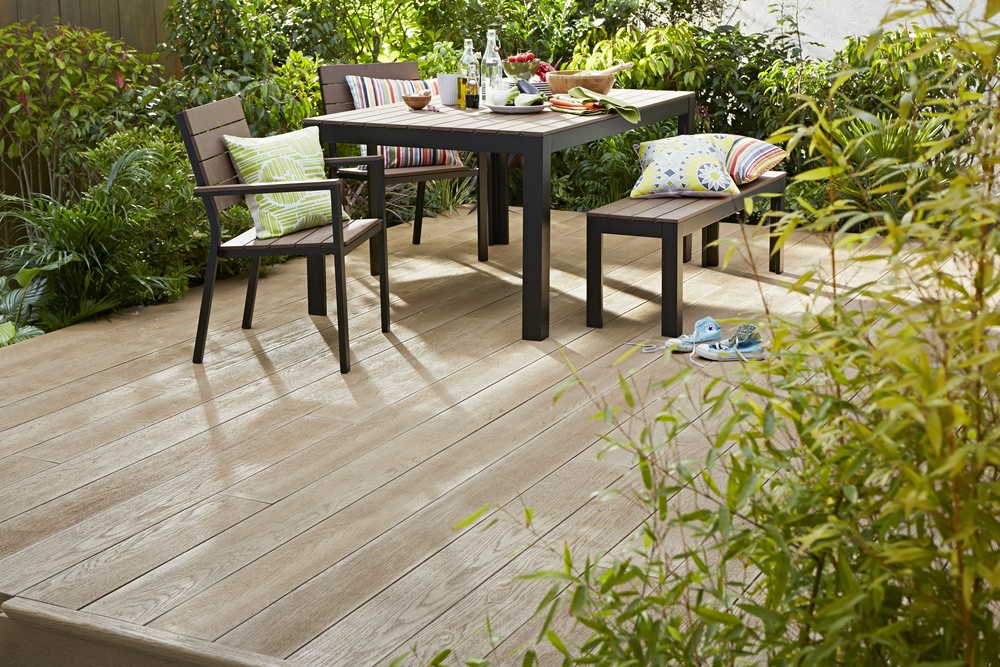 Millboard composite decking
Millboard composite decking combines the beauty and feel of natural timber with a long-lasting durability that real wood simply cannot achieve. Millboard products contain no natural timber. Instead, each board is made from a unique polymer resin that uses recycled minerals. The Millboard composite decking range is available in 13 colours and a choice of 3 finishes; Enhanced Grain, Weathered Oak, and Lasta Grip Slip Resistant.

Composite decking kits
With their long-lasting rot resistance and increased stability, composite decking kits are a sensible option for many. At Estate Sawmills, we offer a wide choice of build-your-own kits in various colours, styles and sizes. Quick and easy to install, composite decking kits are available with a subframe made from tanalised timber or composite materials.